———-
————–
Siesta Key is a beautiful barrier island off the Sarasota mainland with many real estate options to choose from. You will find it alive with a tropical atmosphere, and blessed with the world's finest, whitest sand beach (Crescent Beach which is 99.9% quartz was the first place winner in the World Sand Challenge for the "finest and whitest" sand)
Siesta Key is filled with charming hideaways, and always offers plenty to do. You'll find excellent sailboarding, fishing, snorkeling, boating, parasailing and more.
It is also a place to relax, and let the warm breezes, cool water and soft sand transport you to your personal paradise!
There are almost 50 miles of canals and waterways inside Siesta Key which are all connected to the Intracoastal waterway, Sarasota Bay, Roberts Bay and the Gulf of Mexico. Most homes have boat docks. For those that don't boat storage is nearby and rentals can be had for those who do not own a boat but would like to hit the water every now and then.
Siesta Key Real Estate Video Tour
HISTORY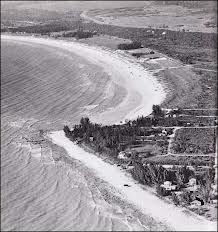 For centuries Siesta Key, specifically Point of Rocks, has been a landmark for mariners.  As legend would have it the starting point on maps to buried treasures plundered by pirates lay just offshore.  Depending upon which map you looked at in the late 1800's Siesta Key was either known as Clam Island, Sarasota Key or Sarasota Island. As tranquil and beautiful as it appeared from the distance in reality it was a hostile environment inundated with wild cats, boars and mosquitoes. Early settlers who dared to tame its challenging landscape had an arduous undertaking to say the least. They came not for the emerald green waters or white sandy beaches but rather to merely raise their crops. It just so happened that this little island was the only available bit of land that hadn't been deeded away to speculators.
In the early 20th Century Capt. Roberts and his wife, who were one of the first settlers to purchase Siesta Key Real Estate and put down roots, built a large boardinghouse home turned hotel. They offered accommodations to northern visitors for the winter and became famous for Mrs. Roberts' seafood chowder. It was so good that when guests brought news of it back home it brought new members of the establishment to Siesta Key including Hollywood elite, Cecil B. DeMille, Bette Davis, Charlton Heston, Dorothy Lamour, Agnes Moorehead, Cornel Wilde and Betty Hutton.
The following year after Roberts' opened his hotel, Capt. Roberts and his two partners founded the Siesta Land Company. A fellow named Harry Higel, who was the most prominent member of this group, was a developer and mayor of Sarasota. Higel advertised lots for sale in Siesta Village and in an effort to make the Key more desirable he began making improvements to the island and its surroundings. He dredged three canals through Siesta Village and connected them to the Bay, giving more of his lots direct access to the water.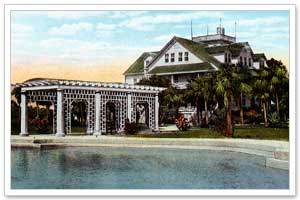 In an unrelated venture the Bay Island Hotel opened its doors in 1912 bringing a new class of lodging to Siesta Key. The hotel was referred to as "the largest and most beautiful" on Florida's west coast by many northern travel brochures at the time. It remained in operation until the mid-1940's when the owner of the hotel learned it was serving alcohol and operating as an afterhours bar. The structure itself burned down in 1952.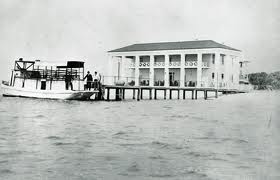 Not wanting to be outdone or to miss out on an opportunity Harry Higel opened his own hotel, which he called Higelhurst, on Siesta Key in 1914. It was located on the shore of Big Pass at the northern end of the Key. Higel ran a boat to ferry guests between the short distance of his hotel and the city of Sarasota waterfront until the Army Corp of Engineers completed the first bridgeconnecting the mainland and northern Siesta Key in 1917. Its sister bridge, connecting the southern end of the island to the mainland at Stickney Point opened in 1927.
Beginning with The Depression development on Siesta Key proceeded at a much slower pace. By the mid-1940s, the island only had a population of about 300. Due to its beauty and tranquility however it attracted a large group of artists and writers. By 1955 there were about 75 living here including among them Impressionist Syd Solomon, illustrator and watercolorist Thornton Utz Alley Oop creator VT Hamlin and John D MacDonald.
It was not until about 1972 that a group of restaurants and retail shops peddling shells and trinkets, took a risk to open their doors on a barrier island that didn't even have a full-time Sheriff's deputy on patrol. A building boom soon followed. Residential Home and Condominium developers built on the speculation that the Village and shops at mid key would thrive, and the rest is history.
A far cry from yesteryear today's Siesta Key will captivate you the moment you step onto its world-famous powdery white beaches. From sunrise to sunset, Siesta Key displays its unsurpassed beauty to thousands of residents and tourists throughout the year. Head slightly further inland and you'll discover Siesta Village, complete with eclectic shops, fine restaurants and plenty more to see and do. Venture down Siesta's side streets and you'll find everything from gulf front condominiums, villas and apartments to magnificent seaside estates.
Photo Credit: Sarasota County History Center