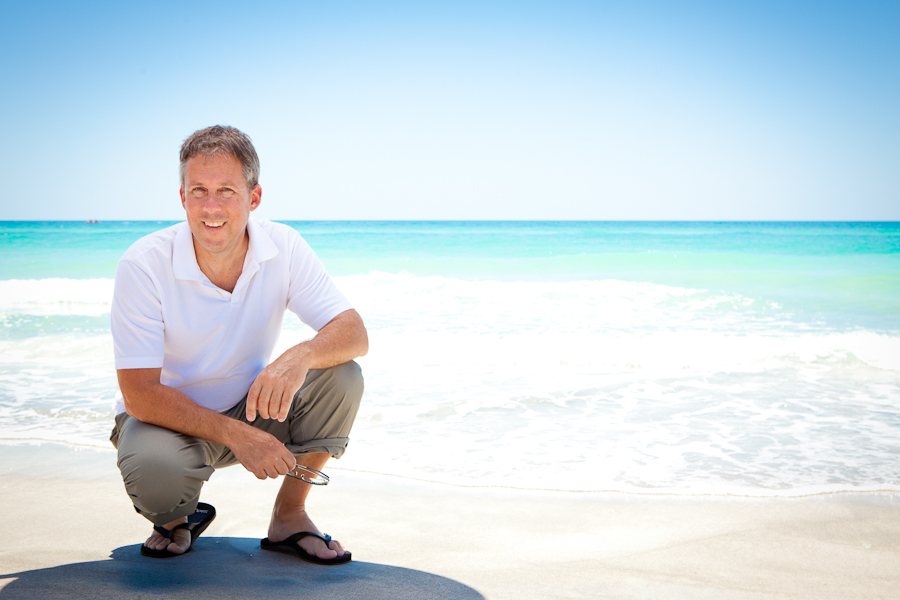 ————
I arrived from Baldwin LI NY in August of '83 with a brand new college degree, $800, my car and a suitcase. A few days later I called my mom and told her I rented an efficiency and got a job at the carwash until I could find something better. She said when you get this out of your system you can always sell your car to get back home. That was slightly more polite than my fathers  "You're working in a carwash with a college degree, what's next – training dolphins?"
A few months later I started what was to become a 17 year career with Florida's oldest family business the Albritton Fruit Company. I was hired as a store manager and from there went on to advertising, marketing, and public relations.
My interest in real estate began in the mid-1980s under Tollyn Twitchell, son of Sarasota School of Architecture's Ralph Twitchell.  As a side job I helped to manage and maintain Sea Winds Condominium on Siesta Key where he owned a majority of the units and I resided. Applying that knowledge I bought my first "fixer-upper" on Longboat Key in 1987 for $70,000. During the ensuing years and several more of these projects under my belt, I became proficient in the Sarasota rental, home repair and real estate market.
During this time I also got married, started a family and watched my parents sell their belongings to come down here too. Boy did I make them eat crow when they arrived.
In 2001 I became a full time real estate agent. At first I was a little unsure of myself because I had no formal training in sales but soon I realized that people don't want to be sold but rather just informed. They want someone who knows the area, can answer all their questions and can negotiate on their behalf. It was all the same things I was doing for myself for years. A decade later I have accomplished being able to earn a living doing what I love to do best while still having time for my family and friends. "I'm living the dream – What more can I ask for?"
What's your passion, your dream? 
Do you picture yourself walking out the backdoor onto a lush green fairway? Is it conducting your business on a balcony overlooking the gulf? Or is it surrounding yourself with friends and family all year round at your outdoor grill? Please allow me to help you with this exciting adventure. I can help you turn you dream into a reality by finding you the perfect home.
It's easy to get started
I created this website www.sarasotahomebuyersguide.com as a single destination source to give you all the help and advice you need to get started on your journey. It is full of useful information including all Sarasota Real Estate for sale updated daily. links to other Sarasota sites, great blog articles collected from the most recent news sources, a newsletter to get you more personalized information and a whole lot more. This site is for both those who may be in the beginning stages of considering a move to Florida to those who are ready to buy right away.
"Whether we get a cup of coffe,talk on the phone or exchange a few emails there is never any pressure. You just let me know when the time is right and i will roll up my sleeves and get to work."
My beliefs are simple
1. Your home buying process should be Easy, Stress Free, Successful and Enjoyable   
I believe that finding you the perfect home is more about good communication and trust than it is about selling. I need to know you and understand what your needs and wants are so I'll be well prepared and you will find the right property at the right price. It's a lot less stressful and a lot more fun that way
2. Your time is valuable  
There are so many areas around town and communities to choose from it can get very confusing. I will arm you with straight forward information on each area of the marketplace so you can make good informed decisions. I've done 28 years worth of homework so you don't have to
3. You should be treated like family  
Every step of the way that I am showing you homes I think about whether I would recommend it to my family or friends. "If it's not good enough for my mother then it's not good enough for you"
4. Ethics are important 
My parents raised me to believe you are only as good as the people you have surrounding you. Michael Saunders and the entire team of professionals I work with to make your real estate transaction seamless are highly professional and well regarded in the community. I am a board member of the Southwest Florida Business Ethics Alliance and would have it no other way.
About Michael Saunders & Co.
A $5 Billion Success Story Created by a Lady Named Michael
Wondrous homes, luxurious condominiums, fabulous resorts, prestigious commercial properties, new developments, corporate and property management services, the finest real estate agents, exclusive affiliations and unmatched reputation and integrity …
This is Michael Saunders & Company.
Exceptional Properties and People.
When one thinks of real estate on Florida's Gulf Coast, Michael Saunders & Company immediately comes to mind. Established more than three decades ago by founder and president Michael Saunders as the first brokerage firm specializing in the luxury waterfront market, the company is now the preeminent real estate agency on Florida's Gulf Coast.
It all began with a vision — an intelligent foresight, part intuition, part perception, characterized by a sense of adventure, imagination and idealism. Founded in 1976, one small office, devoted to marketing luxury waterfront properties, grew to 29 full-service real estate offices with more than 600 associates, serving an area from Anna Maria Island to Boca Grande.
Michael Saunders & Company is now the largest independently-owned real estate company in the region.
Innovative advertising, promotions, public relations, positioning and targeted publications help keep Michael Saunders & Company at the forefront of local real estate firms, with over $2 billion in transactions for 2012. The campaigns, budgeted annually at $3.75 million, appear in local, state, national and international media, plus the Internet. These marketing efforts have built strong buyer recognition by focusing the spotlight on the properties, company and associates.
Exclusive affiliations with both Christie's Great Estates and Luxury Portfolio, the two leading worldwide marketers of unique luxury properties, plus affiliation with RELO, Relocation Network, allow the company to reach and promote properties to the wealthiest customer base.
This is Michael Saunders & Company … Exceptional Properties and People